Fall 2013 – My Favourites | #Anime Tops
Hi there! Woo, it is now time for a very simple and easy blog for you to read and for me to do. Today I'll be listing you my favourite Anime for fall 2013. Now I know that you may be thinking to yourself "there are some Anime are not on this list" and you are correct! Noteable Anime that are not on this list are;
And all the sports Anime that aired.
In no way did I think that these Anime were not good and didn't deserve a place on my list. I like them, but I liked a few other Anime just a little bit more. So just sit back and scroll on through, as I share my list with you, my favourite Anime for fall 2013 🙂
Anime: Magi: The Kingdom of Magic
Episodes: 25
Genres: Action, Adventure, Magic, Fantasy, Shounen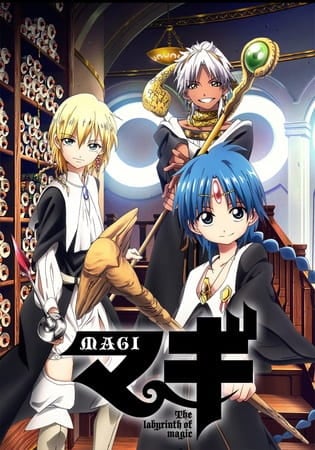 MyAnimeList Synopsis
After celebrating their victory against Al-Thamen, Aladdin and his friends depart the land of Sindria. With the end of the battle, however, comes the time for each of them to go their separate ways. Hakuryuu and Kougyoku are ordered to go back to their home country, the Kou Empire. Meanwhile Aladdin announces he needs to head for Magnostadt—a mysterious country ruled by magicians—to investigate the mysterious events occurring in this new kingdom and become more proficient in magic. For their part, encouraged by Aladdin's words, Alibaba and Morgiana also set off in pursuit of their own goals: training and going to her homeland, respectively.

Magi: The Kingdom of Magic follows these friends as they all go about their separate adventures, each facing their own challenges. However, a new threat begins to rise as a great war looms over the horizon…

MAL Rewrite of MyAnimeList.net
---
Anime: Nagi no Asu kara
Episodes: 26
Genres: Drama, Fantasy, Romance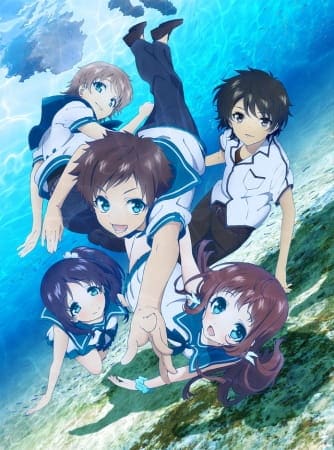 MyAnimeList Synopsis
Long ago, all humans lived beneath the sea. However, some people preferred the surface and abandoned living underwater permanently. As a consequence, they were stripped of their god-given protection called "Ena" which allowed them to breathe underwater. Over time, the rift between the denizens of the sea and of the surface widened, although contact between the two peoples still existed.

Nagi no Asu kara follows the story of Hikari Sakishima and Manaka Mukaido, along with their childhood friends Chisaki Hiradaira and Kaname Isaki, who are forced to leave the sea and attend a school on the surface. There, the group also meets Tsumugu Kihara, a fellow student and fisherman who loves the sea.

Hikari and his friends' lives are bound to change as they have to deal with the deep-seated hatred and discrimination between the people of sea and of the surface, the storms in their personal lives, as well as an impending tempest which may spell doom for all who dwell on the surface.

MAL Rewrite of MyAnimeList.net
---
Anime: Kyoukai no Kanata
Episodes: 12
Genres: Slice of Life, Supernatural, Fantasy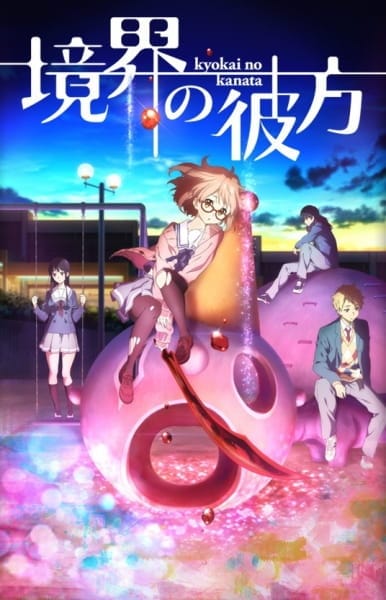 MyAnimeList Synopsis
Mirai Kuriyama is the sole survivor of a clan of Spirit World warriors with the power to employ their blood as weapons. As such, Mirai is tasked with hunting down and killing "youmu"—creatures said to be the manifestation of negative human emotions. One day, while deep in thought on the school roof, Mirai comes across Akihito Kanbara, a rare half-breed of youmu in human form. In a panicked state, she plunges her blood saber into him only to realize that he's an immortal being. From then on, the two form an impromptu friendship that revolves around Mirai constantly trying to kill Akihito, in an effort to boost her own wavering confidence as a Spirit World warrior. Eventually, Akihito also manages to convince her to join the Literary Club, which houses two other powerful Spirit World warriors, Hiroomi and Mitsuki Nase.

As the group's bond strengthens, however, so does the tenacity of the youmu around them. Their misadventures will soon turn into a fight for survival as the inevitable release of the most powerful youmu, Beyond the Boundary, approaches.

MAL Rewrite of MyAnimeList.net
---
Anime: Golden Time
Episode: 12
Genre: Comedy, Drama, Romance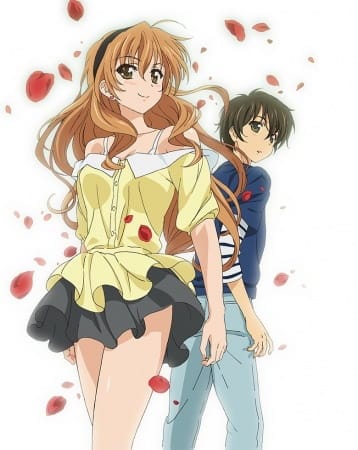 MyAnimeList Synopsis
Due to a tragic accident, Banri Tada is struck with amnesia, dissolving the memories of his hometown and past. However, after befriending Mitsuo Yanagisawa, he decides to move on and begin a new life at law school in Tokyo. But just as he is beginning to adjust to his college life, the beautiful Kouko Kaga dramatically barges into Banri's life, and their chance meeting marks the beginning of an unforgettable year.

After having a glimpse of college life, Banri learns that he is in a new place and a new world – a place where he can be reborn, to have new friends, fall in love, makes mistakes and grow. And as he begins to discover who he was, the path he has chosen leads him towards a blindingly bright life that he will never want to forget.

MAL Rewrite of MyAnimeList.net
---
Anime: Non Non Biyori
Episodes: 12
Genre: Comedy, School, Seinen, Slice of Life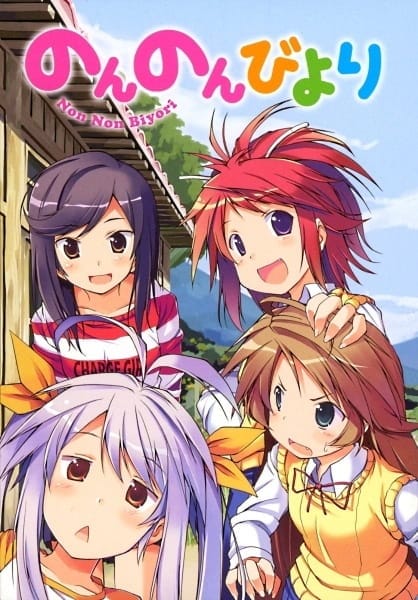 MyAnimeList Synopsis
Asahigaoka might look like typical, boring countryside to most; however, no day in this village can ever be considered colorless thanks to five students of varying ages occupying the only class in the only school in town. The youngest student is first grader Renge Miyauchi, who brings an unadulterated wit, curiosity, and her characteristic catchphrase, "Nyanpasu!" Then there are the Koshigaya siblings consisting of the quiet ninth grader and elder brother Suguru, diminutive eighth grader Komari, and the mischievous seventh grader Natsumi. The recent arrival of Tokyo-raised fifth grader Hotaru Ichijou, who appears overdeveloped for her age and thus naturally holds an air of maturity, rounds out this lively and vibrant group of five classmates.

Based on the manga penned and illustrated by Atto, Non Non Biyori chronicles the not-so-normal daily lives of this group of friends as they engage in their own brand of fun and frolic, and playfully struggle with the realities of living in a rural area.

MAL Rewrite of MyAnimeList.net
---
Anime: Machine-Doll wa Kizutsukanai
Episodes: 12
Genre: Action, Ecchi, Fantasy, School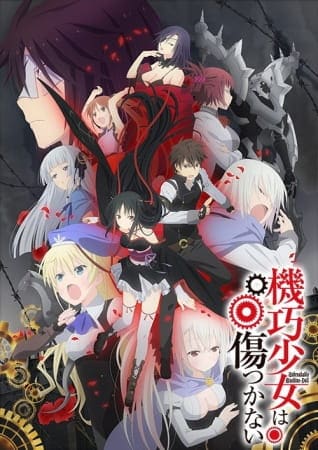 MyAnimeList Synopsis
The Walpurgis Royal Academy of Machinart was founded alongside the development of "Machinart," machine magic capable of giving life and intelligence to mechanical dolls subsequently called as "automaton." Its aim: train skilled puppeteers to control the automatons, as militaries across the globe have begun incorporating Machinart into their armies.

After miserably failing the academy's entrance exams, Raishin Akabane and his humanoid automaton Yaya must defeat one of the top one hundred students to earn the right to take part in the Evening Party, a fight for supremacy between puppeteers using their automatons. The last one standing is bestowed the title of "Wiseman" and granted access to the powerful forbidden arts.

Thus, Raishin challenges Charlotte Belew and her automaton Sigmund to a duel, but before they even begin, Sigmund is attacked by other students. After saving his opponents from their assaulters, Raishin cancels the duel but is forced to search for a new way to gain access to the Party. Driven by the tragedies of his past, Raishin fights alongside Yaya to rise to the top and claim the title of Wiseman.

MAL Rewrite of MyAnimeList.net
---
If you want to support me and what I do,
please consider following me on Patreon.
Otaku Central